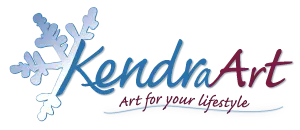 Introduction to Watercolour Basics
Imagine if all that could change.
What if you could take the intimidation out of watercolour so that it could be easy and fun?
This Introduction to Watercolour Basics course will do just that.
I can help you produce smooth and luminous watercolours with clear areas of light and shadow which bring your paintings to life.
When I first started painting I had no idea what true watercolour paints even were. I was using the same paints that kids use in elementary school.
When I finally discovered real watercolour paints, everything I did turned out streaky and opaque. I was so frustrated that I threw those tube paints in a box and I went back to painting with the kid paints.
The next summer I hesitantly signed up for a watercolour workshop.
I had no idea that this class would change my life.
The first thing I learned was how to mix water into my paints and we painted the paper blue...
That's it, just blue, but I was amazed. The blue paint was so smooth and so bright and translucent, I couldn't believe it. From that moment I was hooked on watercolours.
You see, with the proper techniques, the feelings you experience when you paint will transform from frustration to inspiration.
I'm so excited you want to learn to paint with watercolours. Beginners find my classes incredibly rewarding because there is so much progress in such a short time, and everything we do is so new and exciting.
Watercolour is such an expressive medium. It's magical how the colours blend on the paper and come to life with light and shadow.
In this Introduction to Watercolour Basics course you will learn all the techniques needed to build a solid foundation in watercolours and how to overcome common struggles that beginners normally encounter.
You will see each technique demonstrated in a step-by-step, easy to follow manner with a pace specifically geared towards beginners. I demonstrate everything twice so you can relax and watch the first one and then paint along with me.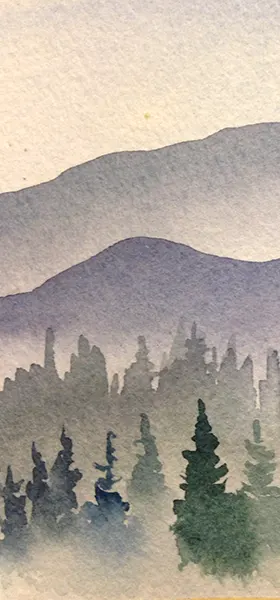 Upon completion of this course, you will have learned how to: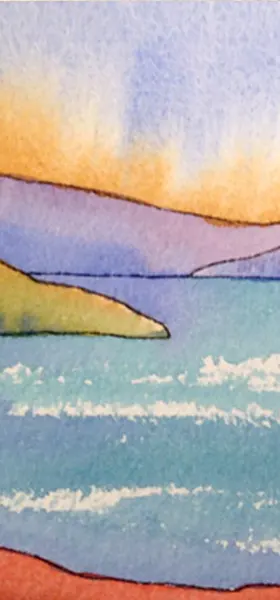 I am always amazed by what we can cover in 6 lessons. Once the course is complete, you will be able to take all the tips and tricks you have learned and let your own creativity blossom.
Here is everything you will receive when you sign up for this course:
Here is a summary of everything included:
| Introduction to Watercolour Basics Course | Value |
| --- | --- |
| 6 Week Online Watercolour Course with Lifetime Video Access | $197 Value |
| Six Comprehensive eBooks with Detailed Notes & Pictures of Each Lesson | $114 Value |
| Lifetime Access to Extended Lesson Library | $47 Value |
| A Sturdy Foundation in Watercolour Basics | Priceless |
| Total Value | Over $350 |
Introduction to Watercolour Basics Course ~ To Be Announced
This course is currently under production. All of the lessons have been filmed and editing is well underway. Sign up for free below and I'll email you as soon as the course launches. Thanks!
You do not need to know how to draw to take this course.
You don't need talent or skills.
You just need a willingness to try, a desire to learn, a little patience, and a love for watercolour.
Introduction to Watercolour Basics
Watercolours Made Easy

This workshop is perfect for those of you who have only dabbled in watercolour painting, or never even picked up a brush. Emphasis will be placed on the very basic techniques and skills needed to develop a foundation of watercolour, and how to avoid the struggles that most beginners face.
Through demonstrations and practice we will take the intimidation out of watercolour and make painting easy and fun. Learn how to produce clear washes, textures, clouds, trees, mist, water, snow and more.
DATES:
This course will be released soon. Once you purchase the course you will have immediate access to all the content.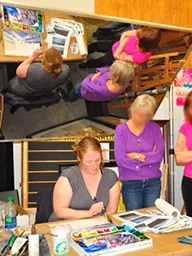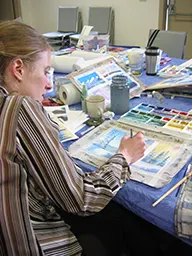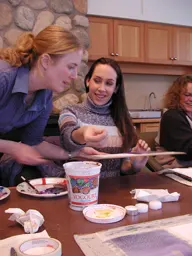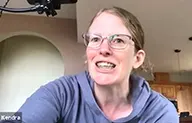 That's ok, everything will already be in the course area when you join and it will always be there for you, so you can take your time and watch the videos at your leisure. 
The colours I will be using will just be a suggestion. Since we are focused on learning the basic techniques and not producing masterpieces it will be fine if you substitute different colours.
Surprisingly the paints are not the most important supply. I recommend saving money on paint and splurging on paper. You can get a super high quality huge sheet of watercolour paper for around $10 whereas a good tube of professional watercolour paint can cost you $10-40 per colour.
If you want to start with the minimum cost, look for a set of 18 Pentel Watecolours. They cost about $15 total for the whole set and they have vibrant bright colours which don't crack or separate. PSA: Do NOT buy Reeves or Maries paints though, they are not nice to paint with.
I will be using 140 lb (300gsm) Arches cold press watercolour paper. It comes in bright white and natural, both are fine. I really recommend that you use Arches 140lb cold press watercolour paper so that we are all on the same page, literally. It really helps with consistency of results. If you don't have access to Arches, look for a 100% cotton paper. Cellulose or pulp papers will be difficult to work with and cause frustrations. 
Watercolour brushes have long bristles that come to a point when you flick the brush while wet. I will be using a 1/2" flat, a #6 round, and a #1 script/rigger/liner brush.
You could get away with a larger sized round brush if it comes to a nice point. You could also get away without a rigger brush if you have a small round brush which comes to a nice point.
I will be sending you a detailed supply list when you sign up. In the mean time here is an example supplies list in summary:
masking tape or painter's tape

old tea towel

paper towel

watercolour palette

1 sheet of 22×30 ARCHES Cold Press 140lb (300 gsm) Watercolour Paper or other 140lb 100% cotton paper

1 set of 18 Pentel Paints or 1 small tube each of cobalt blue, ultramarine blue, hooker's green, transparent yellow such as aureolin yellow, raw sienna or yellow ochre, burnt sienna, and a dark pink colour such as permanent rose

2 boards or thick card to tape your paper to

Watercolour brushes have long bristles that come to a point when you flick a wet brush. I mainly use a ½" flat, a size 6 round brush, and a size 1 rigger/liner/script brush.

a small utility blade with a ½" / 9mm wide blade with a lock mechanism 

a clear or white tealight candle

salt

scissors

pencil

white eraser

a water bottle to stay hydrated

a black pen with permanent ink such as a fine tip sharpie

sea sponge or torn pieces of a household sponge
Wonderful, I love teaching beginners. You would be a perfect fit for this course.
That's ok, don't worry, no drawing skills required. Any drawings we do will be very basic and I will walk you through the shapes.
Email me at kendra@kendraart.com. I'm happy to answer any questions you have about the course.
In 19 years of teaching I've only had one student who said that watercolour was not for them.
Also, to encourage you, most of my students have raved about my classes and many of them come back time and time again to take my classes over and over. I think that speaks louder than any testimonial. But just in case you are unsure, have a look at what my previous workshop participants are saying below:
This is what my previous students are saying:
This is what others are saying about Kendra's Video Tutorials:





All the lessons have been filmed and the ebooks created.
Editing is underway! Registration coming soon.
Sign up for free to find out as soon as the course is available: