About the Artist
Kendra Dixson
Kendra Dixson (nee Smith) grew up near Williams Lake, BC. She studied French and Spanish in Quebec and Victoria and graduated in 1996 with a Bachelor of Arts. Kendra enjoyed traveling overseas as well as in Canada, spending summers in five different provinces. Her parents continue to give her the love and support she needs to pursue her dreams, and have taught her to value the small things in life.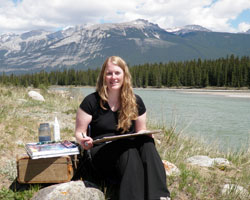 Kendra took her first watercolour workshops in Clear Lake, Manitoba during the summer of 1999. She has always been creative and watercolours instantly became a passion. Kendra then moved to Fernie, BC where she held her first solo art show at the Fernie ski hill in 2001.
Kendra now exhibits her original work in several galleries and gift stores across Canada including in Jasper, Sun Peaks and Tobermory, all towns she has lived in.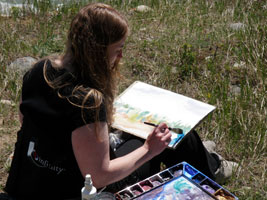 Now a full time mom, artist and workshop instructor, Kendra continues to enjoy and to be thankful for this creative side of life. In 2009 she spent 12 days as the artist in residence with Mountain Galleries in Jasper and Banff, Alberta. Kendra also sells her work at Mountain Galleries in Whistler, BC.
In 2013 Kendra was commissioned by the Royal Canadian Mint to design two collector coins for the 2014 O Canada silver coin series.
Comments and requests are welcome.
Thank you!