| | |
| --- | --- |
| News | |
Follow my recent news on my blog and facebook page: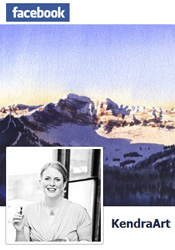 June 1, 2013
KendraArt Canadian Coins:
I have very exciting news. I've been commissioned by the Royal Canadian Mint to design a coin for Canada. I am extremely honoured. This was a very exciting project and I really enjoyed the creative process. The coin design will be released to the public in November 2013 and the coin will be available for purchase the following year.
April 10, 2013
My Old Studio Space is Now heART school:
You should see the beautiful studio spaces in downtown Kelowna at my old studio location. My studio mate Carrie Harper has transformed the studio and 5 offices into heART school. It's quite amazing.
Here is an article in the Capital News by Jennifer Smith: "Kelowna artist invites others to find their creative voice".
February 6, 2013
Moving to a Home Studio:
In December I was blessed with a beautiful baby boy. I am going to be stepping away from my art studio to make way for new adventures. I have set up my painting table at home, which is great.
There is another huge transformation underway at my art studio in downtown Kelowna. Carrie Harper is taking it over and has amazing plans for the space. Can't wait to see!
November 8, 2010
Open studio show:
When I moved into my art studio in August 2007 it was like a dream come true, and about 10 years earlier than expected. It was one of those things where I couldn't really afford it, but I couldn't afford not to either. The amazing part was that I did not seek this studio out, the opportunity presented itself to me almost like a gift from the Universe. read more on the Art for your lifestyle blog...
September 12, 2010
Lake country art walk:
Kendra has 10 original paintings in the Lake Country Art Walk this weekend. http://www.artwalk.ca/
August 9, 2010
Celebration and fundraiser for arts program:
Kendra donated a painting to a fundraiser for the Whistler Arts Workshops on the Lake program. It's an amazing program where the Whistler Arts Council offers art workshops in a beautiful cabin on Alta Lake in Whistler, BC. Read more on her blog: http://artforyourlifestyle.com/2010/08/354/
July 16, 2010
Sun Peaks Wine and Culture Festival Art Walk:
Kendra has been invited to participate in the Sun Peaks Wine and Culture Festival Art Walk again this year. You will find her at Bella Italia from 2pm-4:30pm on Saturday and in front of Tree Line Studios art gallery on Village Way on Sunday. Read more on Kendra's blog: http://artforyourlifestyle.com/2010/07/sun-peaks-wine-and-culture-festival-2010/
July 12, 2010
Whistler on the Lake watercolour workshop:
July 6-8 Kendra was at a 3 day advanced watercolour workshop in at Whistler on the Lake taught by artist David McEown. The mornings were spent painting en plein air from the deck and the afternoons were spent painting a more complex studio piece. Read more here: http://artforyourlifestyle.com/2010/07/artist-heaven/
April 16, 2010
Spring Art SHows:
Kendra participated in two art shows this spring. Read more about them here:
Art of the Cover...
Sopa Fine Art U8...
January 1, 2010
Sun Peaks Winter Wine Festival: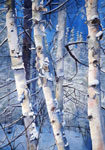 On January 22, 2010 Kendra will be a guest speaker and featured artist in the Progressive Wine Tasting event during the Winter Wine Festival.
On January 23rd, Kendra will be displaying her artwork in the lower level of the Delta Hotel in Sun Peaks Ski Resort, 45 minutes north of Kamloops, BC. This art show is hosted by Tree Line Studios. Tree Line Studios is located in the lower level of the Delta Hotel. To inquire about Kendra's artwork, please contact the gallery at 250-578-2674.


December 27, 2009


ART In Whistler During the Olympics:
Mountain Galleries will be featuring Kendra's watercolours this winter in Whistler during the Olympics. Kendra has been busy painting Whistler landscapes to get ready for this honour. You can view them on her Whistler art page.
July 27, 2009


Painting In Whistler:
Kendra has been invited by Mountain Galleries to paint in Whistler for a week. She will stay in one of Mountain Galleries staff apartments as part of their artist in residence program developed by the gallery owner Wendy Wacko. Mountain Galleries represents Kendra's watercolour paintings in the Fairmont Hotels in Whistler, Jasper and Banff.
July 9, 2009


Wine and Culture:
Kendra will be at the Wine and Culture Festival in Sun Peaks on July 18-19, 2009. Read More... She will be bringing her newest Sun Peaks watercolours with her.
June 12, 2009


Artist in Residence:
Kendra was invited to spend over a week as the artist in residence at Mountain Galleries in Japser and Banff, Alberta.
In Mountain Galleries art studio in Jasper, Alberta with a week's worth of paintings, mostly painted outdoors 'en plein air', and in front of the Mountain Galleries studio and warehouse: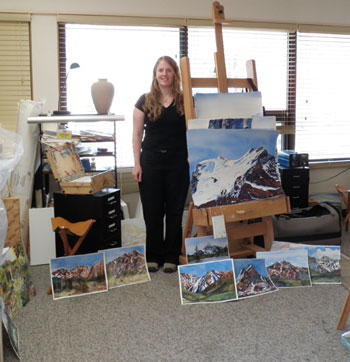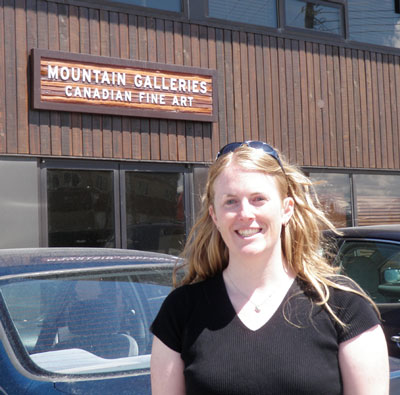 Painting en plein air in Jasper and in Lake Louise: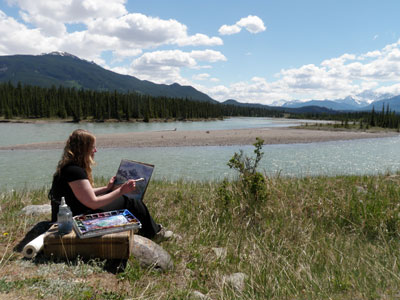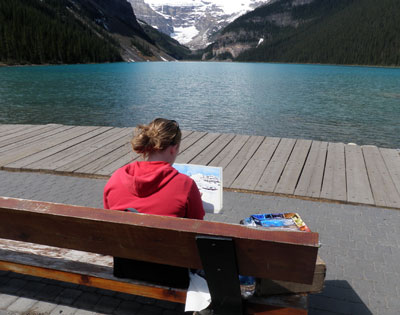 Mountain Galleries is an art gallery with three locations in Whistler, Jasper and Banff. Soon Kendra will have her artwork in all three galleries.
June 11, 2009
Art in Banff:
Mountain Galleries at the Fairmont Banff Springs Hotel is going to represent Kendra's original watercolours in their gallery.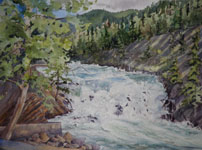 Mountain Galleries
Shopping Promenade • The Fairmont Banff Springs Hotel
PO Box 898 • Banff, Alberta • T1L 1A9
Phone: 403-760-2382
Fax: 403-760-2483
email: banff@mountaingalleries.com

View Kendra's Banff art here: http://www.kendraart.com/art_banff.html
June 8, 2009
Art in Jasper:
Mountain Galleries at the Fairmont Jasper Park Lodge is going to represent Kendra's original watercolour paintings.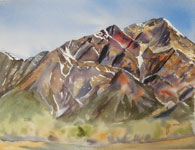 Mountain Galleries
Beauvert Promenade • The Fairmont Jasper Park Lodge
Box 1651 • Jasper, Alberta • T0E 1E0
Phone: 780-852-5378
Fax: 780-852-7292
email: jasper@mountaingalleries.com

View Kendra's Jasper art here: http://www.kendraart.com/art_jasper.html
February 4, 2009
Full Time Artist:
Kendra gave her notice to the Centre for Arts and Technology where she taught part time interface design, Flash animation and database web development in Kelowna, BC. As of April 1st, 2009 she will officially be a full time artist. "I loved teaching, but it was so time consuming and when I was marking I was wishing I was in my art studio. With the Olympics coming up next year I really want to be in my studio painting full time. Especially now that I have my art in Mountain Galleries in the Fairmont Chateau Whistler. If I wait until next summer to paint, it will be too late."
November 25, 2008
Art in Whistler:
Kendra Smith is now represented in Whistler, BC. Mountain Galleries at the Chateau Whistler is going to represent her original watercolours.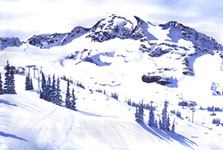 Mountain Galleries
The Gallery at Chateau Whistler
Shopping Promenade • The Fairmont Chateau Whistler
4599 Chateau Boulevard
Whistler, British Columbia • V0N 1B4
Phone: 604-935-1862 Fax: 604-935-1896
Email: whistler@mountaingalleries.com

View Kendra's Whistler art here: http://www.kendraart.com/art_whistler.html

April 4, 2008
Corporate Gifts:
Consider ordering fine art reproductions or art cards as thank you gifts at your next convention or business meeting. If you are in Whistler, BC, Banff, AB or Jasper, AB, please order through Mountain Galleries by calling 1-888-310-9726. If you are in Sun Peaks or Kamloops, BC, please order through Tree Line Studios by calling 250-578-2674.
February 12, 2008
Interior Design:
Interior designers have used Kendra's paintings to decorate ski lodges. Kendra's framed artwork can be found in Condos in Fernie and Big White including Pinnacle Ridge Resort and Timberline Lodges.
Kendra's painting of Tulips in the Kitchen: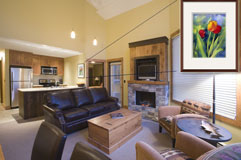 Juniper Timberline Lodge, Fernie, BC
July 31, 2007
Custom Design:
As well as being an artist, Kendra is a graphic designer. She can design your custom brochures, posters, business cards, etc. Kendra has a diploma in Digital Media Design from the Centre for Arts and Technology in Kelowna, BC. You can visit her graphic design website at KendraGraphics.com.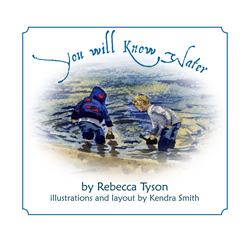 July 15, 2007
Illustrations:
Kelowna author Rebecca Tyson commissioned Kendra to paint ten original watercolour paintings to illustrate her children's storybook "You Will Know Water".
The story is about discovering water with her twin boys on a camping/canoe trip in beatiful British Columbia. Two small private editions were printed in 2007.
January 8, 2007
Cover Artist: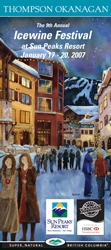 In 2006 Kendra was commissioned to paint the cover for the Okanagan Spring Wine Festival guide (below) and this year one of her paintings will grace the cover of the 2007 Icewine Brochure (right).
Tourism BC purchased both of the original paintings on the behalf of the Okanagan Wine Festivals. You can see them in person when you visit the Wine Festivals' Kelowna office on Ellis Street.
March 6, 2005
CBC Radio Interview:
North By Northwest


Sheryl MacKay interviewed Kendra on CBC radio today, the morning of her art show at the Wood in Fernie, BC. To hear how Kendra discovered her passion for watercolours, here is the radio interview podcast.
If it won't play, you can download a free real player from www.real.com.
January 15, 2003
Commissions:
Kendra Smith has painted commissions for Sun Peaks Resort and the Okanagan Wine Festivals, and her original watercolours have made their way into private collections around the world.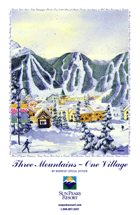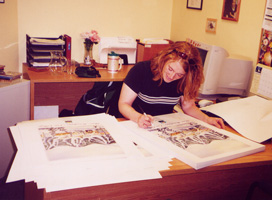 In 2002, Kendra painted the picture for the official Sun Peaks poster titled "Three Mountains ~ One Village".
Peaks Media Inc. was hired by Tourism Sun Peaks to design this anniversary edition poster and Peaks Media then commissioned Kendra to paint the feature picture. Six originals were painted from a collaboration of inspiration between the artist and designers until the final image was chosen. 5000 posters were printed; 500 were signed.
View more examples of Kendra's commissioned paintings...
---
Purchase:
To make a purchase please call Mountain Galleries with locations in Whistler, Banff and Jasper at 1-888-310-9726 or Tree Line Studios in SunPeaks at 250-578-2674.
All artwork on this website is copyrighted. All rights reserved by artist Kendra Smith.