---
Lake Country ArtWalk
September 9-11, 2010
Lake Country ArtWalk 2010, 10241 Bottomwood Lake Rd,
Lake Country, BC

ArtWalk takes place in the Lake Country Community Complex where it showcases original works of art and live performances created by artists in the Okanagan Valley.
---
U8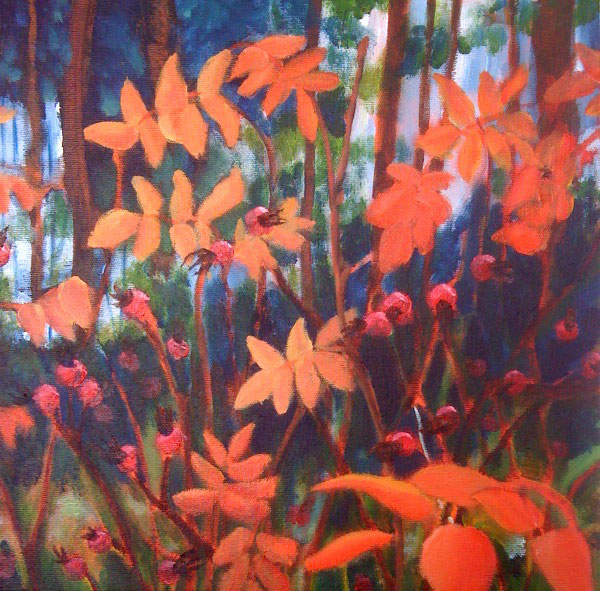 April 1-11, 2010
SOPA Fine Arts, 2934 South Pandosy St., Kelowna BC
Beginning April 1st (opening night) the gallery will be exhibiting over 350 original art works priced Under Eight Hundred dollars. Kendra has a 12x12" acrylic painting in this show titled "Rosehips".
---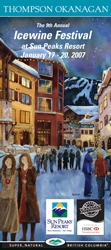 Art of the Cover
April 15 - May 15, 2010
The Evans Gallery, 571 Lawrence Ave, Kelowna, BC
The Evans Gallery is co-hosting this event with the Wine Festival Society to display and offer for sale works they have collected over the years that have appeared on the cover of Wine Festival guides. The opening wine and cheese reception will be April 15th from 5:00pm to 8:30pm. Two of Kendra's pieces will be included; one that appeared on the Spring Wine Festival Guide cover in 2006 and the other on the 2007 Sun Peaks IceWine Festival brochure.
---
Sun Peaks Wine and Culture Festival Art Walk 2010
July 17-18, 2010
Tree Line Studios art gallery in Sun Peaks, BC


This weekend Kendra is heading to Sun Peaks, BC where she and four other artists will be paired with resort restaurants on Saturday, July 17th as guests tour from location to location throughout the stunning alpine village. Visitors will learn about various art mediums while tasting some of the finest wines British Columbia has to offer and indulging in sumptuous tapas created by Sun Peaks Chefs.
Reservations are required, tickets are 49.00$ per person. For more information you can check out the Sun Peaks Resort website or contact Tourism Sun Peaks at activities@sunpeaksresort.com.
On July 18th there is a second opportunity to meet the artists and view our work in the "Art Zone" outside Tree Line Studios in the heart of the village.
Sun Peaks Wine and Culture Festival Artwalk July 17th and 18th 2010
---
Winter Wine Festival 2010 Sun Peaks Art Show
January 22-23, 2010
Sun Peaks, BC
Friday, January 22, 6-9pm
On the evening of January 22 Kendra will be a guest presenter at Sun Peaks Progressive Wine Tasting event during the Winter Wine Festival. The Progressive Tasting "combines cool wines, talented local artisans, crisp mountain air and good company to create warm and wonderful memories of a Canadian winter. Wander around the charming alpine village while tasting wines from over 20 wineries and watching demonstrations from local artisans".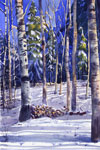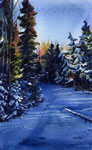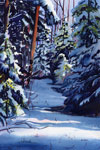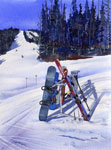 Saturday, January 23, 10am-2pm
On Saturday, January 23 Kendra will be displaying her art in the lower lobby of the Delta Hotel along with artists Ken Farrar and Sol Metal Designs. This art show is hosted by the art gallery Tree Line Studios.
To purchase tickets for the progressive wine tasting or for more information on Winter Wine Festival events, contact Sun Peaks Adventure Centre at 250-578-5542. To read more about the art gallery at Sun Peaks, visit Tree Line Studios website, or call 250-578-2674.
---

Wine and Culture Festival 2009
July 18-19, 2009
Tree Line Studios art gallery in Sun Peaks, BC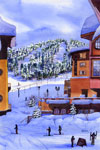 The second annual Wine and Culture Festival will be hosted at Sun Peaks Resort during Alpine Blossom Season. The art festival is 2-4 on Saturday July 18 where Kendra will be set up in a restaurant at Sun Peaks. Kendra will share the history of her art career and her passion of art.
Kendra will be set up in front of Tree Line Studios from 11am-2pm with three other artists from the gallery. At the same time there is a lively Farmer's Market on Sun Peaks Way, so there will be much to see and do.
For more information on the Wine and Culture Festival, please contact Sun Peaks Adventure Centre at 250-578-5542. As for the art gallery at Sun Peaks, please visit Tree Line Studios website, or call them at 250-578-2674 for more information.

---
Valentine's Day Sun Peaks Art Show
                        


February 14, 2009


Tree Line Studios art gallery in Sun Peaks, BC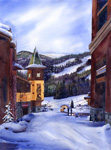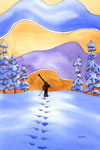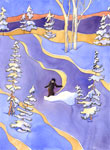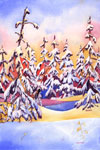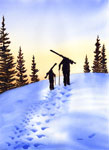 Kendra Smith (now Kendra Dixson) returned to Tree Line Studios on February 14th, 2009 for her eigth annual art show at Sun Peaks Ski Resort, just outside of Kamloops, BC.
"This year my goal was to explore my creativity. I had a wonderful time playing with colour, line and design. One of my close family friends said that 'The world today needs lightness and love and hope. I think your painting portray that.' That means a lot to me."
Here is a link to a poster of the original paintings Kendra had at the art show: http://www.kendraart.com/images/2009_SunPeaks_artShow_KendraArt.pdf

---
Sun Peaks Art Show
                                                


February 16th, 2008


Tree Line Studios art gallery in Sun Peaks, BC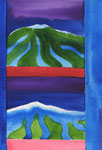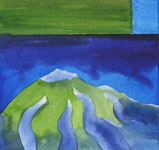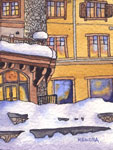 "This year I brought over 25 new originals! People want to see an artist grow and I think everyone will be happy to see that I am still producing new work. A few of my new paintings are really different from anything I've done in the past.
My art show was a big success. Thank you to everyone who came!" Kendra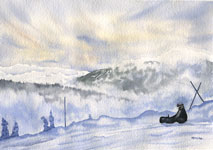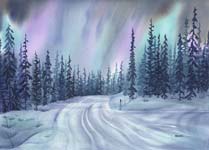 To read more about the art gallery at Sun Peaks, visit Tree Line Studios website.
---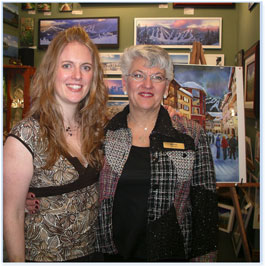 Icewine Festival
Sun Peaks Art Show


January 20, 2007


Tree Line Studios art gallery in Sun Peaks, BC

In 2006 Kendra was selected to be the cover artist for the Okanagan Spring Wine Festival guidebook and was the feature artist during the wine festival at Picture Perfect in Kelowna.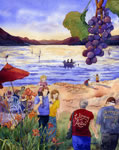 The Wine Festival committee also commissioned Kendra to paint the cover for the Sun Peaks Icewine Festival brochure. 2007 was Kendra's sixth annual art show during the Icewine Festival at Tree Line Studios in Sun Peaks.
Click here to see the full brochure as a PDF.
Sun Peaks, just outside of Kamloops, BC, is a beautiful ski resort. The gallery Tree Line Studios is located in the village beside the Rocky Mountain Chocolate Factory.
(Please call 250-578-2674 for more information!)

To see photos from Kendra's art show at Tree Line Studios click here.
---
Open Studio Show



November 26-27, 2010


Studios 4 & 5, 375 Bernard Avenue, Kelowna, BC                                                 

Studios 4 & 5's 4th annual Christmas Art Show Friday, November 26th 5-9pm and Saturday, November 27th, from 11am to 4pm.

This year there were 7 artists displaying and selling their work:

Have a look at these beautiful photos on Jessica Balfour Photography facebook page:
---
Studio Christmas Open House
November 27 5-9pm, November 28 11am-4pm, 2009
Art Studios #4 and #5, 375 Bernard Ave in Kelowna, BC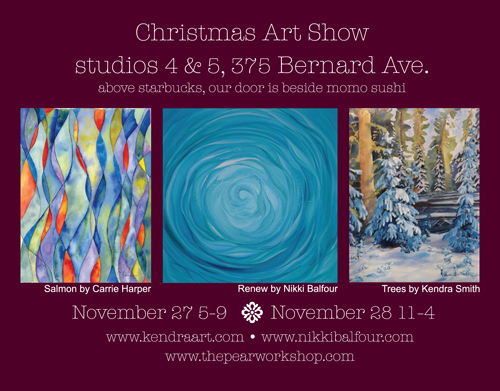 Featuring Kendra Smith (now Kendra Dixson), Carrie Harper, and Nikki Balfour in
studios 4 & 5, 375 Bernard located upstairs from Starbucks on Pandosy and Bernard.
---
Studio Art Show 2008
Friday evening, December 5th 7pm-9pm
Saturday, December 6th 11am-4pm
Art Studio #5, 375 Bernard Avenue, Kelowna, BC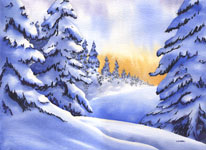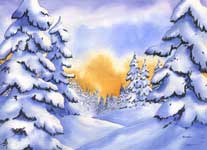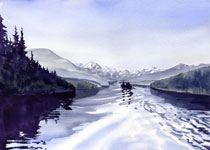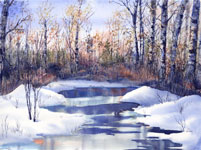 The above originals will be available for $425 framed.

We will have art cards, magnets, prints and other originals for sale too.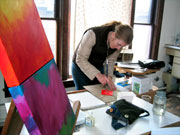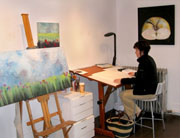 Kendra Dixson and Carrie Harper painting in their studio.
---
Open Studios
August 8 - 10, 2008

Art Studio #5, 375 Bernard Avenue, Kelowna, BC

Open Studios is like a studio crawl and my studio partner Carrie Harper and I will be a part of it! We are opening our studio doors and everyone is welcome!

"Open Studios promotes recognition that the arts are a significant component of our region and contribute to the public awareness about the quality and diversity of art created in our community. It also provides an educational experience for all ages, which will help foster an interest in and a greater understanding of the artistic process. This program provides a rare opportunity of seeing artists in their own environment and to experience artists discussing and demonstrating their materials and art process."
---
Christmas Craft Fairs 2008!

Craft-A-Fair, Sunday, November 2nd at the "Interior Savings Center" in Kamloops, BC. It is the same arena I've been at for the last two years (a few years back it was Riverside Colliseum).
10am-4pm Sunday. Door prizes!

Festival of Creations, November 8,9 at Prospera Place, 1223 Water Street, Kelowna, BC. Door prizes!
BOOTH 106
Sat. Nov 8th, 2008 11:00am -7:00pm
Sun.Nov 9th, 2008 10:00am - 5:00pm

Midieval Market, November 15,16 at Columneetza Secondary School, 1045 Western Avenue, Williams Lake, BC. 10am-4pm Saturday and Sunday. Door Prizes!.


Christmas Craft Fair, November 22 at the Fernie Community Centre, Highway #3, Fernie, BC.

Christmas Craft Fairs are a lot of fun for me. It is a chance to be in the public and display all of my new work in an open setting.

I bring art cards, prints, magnets and bookmarks. If you want to stock up on cards for Christmas, save money by ordering in larger quanities.