| | |
| --- | --- |
| Workshops | |
Some of the comments Kendra has received from students on past workshops were:
"You're one of the best instructor's I've ever had - You're a natural!!"

"Kendra your instruction was right on. You're enthusiastic, inspiring, & know how to share your passion. Thank you!!"
---
Beginner Watercolour Course
Gain a solid foundation in watercolours and learn how to overcome and avoid common struggles that beginners normally encounter. This course makes watercolour easy and fun.

You will receive instant access to all of the video instruction as well as detailed step by step notes with pictures, and a bonus extended library with videos to help get you set up.
Learn more: Introduction to Watercolour Basics.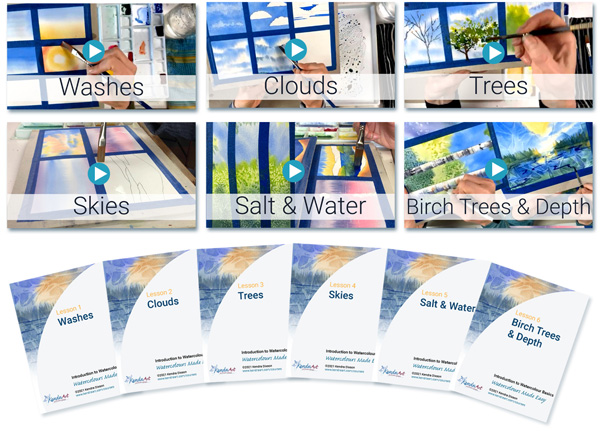 ---
If you are interested in taking a workshop with Kendra, please call her at 250-862-4958.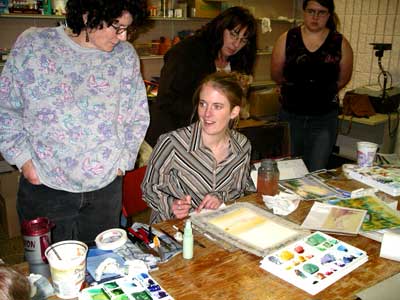 If you would like me to email you to let you know when I'm going to be teaching a workshop, zoom class, or course, you can now sign up to my mailing list:
If you are interested in group or private watercolour lessons, please contact Kendra.
---
Watercolour Demonstrations
How to Paint Carrot People in Watercolour
I was taught how to paint people by starting with a carrot shape and I've used it ever since. Here I am demonstrating how to paint carrot people in watercolour, passing on what I learned.

Just start with a carrot shape and then add a head and it's up to you if you want to add arms or elbows. At the end I show some paintings where I included "carrot people" in my compositions.


How to Paint Birch Trees in Watercolour
I thought it would be fun to give you a peek into an actual lesson where I taught my students how to paint birch trees in watercolour, step by step. The original class was really long so I skipped ahead to the birch tree part just for you. Let me know in the comments if you have any questions. Thanks for watching!

Song: Smile by Bensound.com


How to Paint Water Droplets in Watercolour
In this video tutorial I demonstrate how to paint water droplets in watercolour in 3 easy steps.

To paint a water droplet you need three things: 1. A highlight on the side the light is shining on. 2. A shadow inside the droplet on the side the light is shining on. This is counter intuitive but it is caused by the refraction of light through the water. 3. A cast shadow behind the droplet away from the light source.

Reference Photos and more examples on my Facebook Page KendraArt
Reference Photos and more examples on my Instagram Page @kendraartist

Music: "Rainy Day" by Jonah Berglund from Pixabay
Opening video of a raindrop falling on a leaf by Deeana Creates from Pixabay


For more free watercolour videos and tutorials subscribe to the KendraArt YouTube channel.
---

Kendra has taught watercolour workshops in Elkford, Fernie, Kelowna, Revelstoke, Sparwood, and Sun Peaks, BC.

"When I am teaching watercolours, I tell my students that there is no such thing as mistakes; only techniques that may better be used somewhere else. Sometimes the unexpected can become the best part of a painting. It's important to be able to let go and let the paint blend into the paper as it will. You get beautiful, luminescent results when you let the paint do its thing."


---

Painting Party





Kendra's Art Studio, downtown Kelowna, BC

---

Sun Peaks One Day Watercolour Workshop

Pinnacle Lodge, Sun Peaks, BC

---

Skies, Northern Lights, Winter Landscapes Watercolour Workshop

Kelowna, BC

---

Fall Colours and Reflections Watercolour Workshop

Elkford, BC

---

Kids Arts and Crafts Adventure Camp

Fernie, BC